Gene Codes Forensics, Inc.
Gene Codes Forensics provides a unique combination of comprehensive DNA matching software along with operational, consulting, and management services that leverage our extensive on-the-ground experience in forensic DNA and victim identification issues. We can conduct a complete process and needs assessment of your existing capabilities and provide the comprehensive software and services solutions required for rapid and accurate identification of victims from mass disasters and in missing persons cases.
To learn more about our company, our software, and our services, please click on the tabs at the top of the page.
---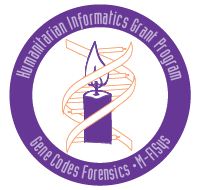 Gene Codes Forensics has established a corporate grant fund to support humanitarian efforts in Human Identification [HID] using DNA technology. For information and application materials, click here
---
Gene Code Forensics is a proud to partner with DNA ProKids, working to detect, deter and interdict child trafficking around the world. M-FISys has state-of-the-art tools for securely and confidentially sharing anonymized subsets of a DNA database between users in different laboratories and different jurisdictions. This unique capability in M-FISys makes it the ideal software system for the kind of international collaboration needed to combat this kind of crime. It is an honor to support the DNA ProKids team collaborators in their important work.