Humanitarian Grant Program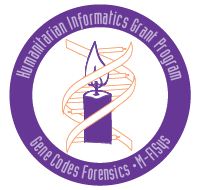 Gene Codes Forensics has established a fund of one million US dollars to support non-profit, humanitarian organizations performing forensic DNA testing in human identification [HID] projects to help defray the cost of the Mass-Fatality Identification System, also known as M-FISys® (pronounced like "emphasis"). To apply for support for your organization, download the RFP and Grant Application, or email forensics@genecodes.com for more information.
M-FISys is the forensic DNA database and software system developed by Gene Codes Forensics[1] to identify over 22,000 human remains from an estimated 2,760 individuals killed in the attack on New York City's World Trade Center on September 11, 2001. M-FISys has been substantially enhanced and extended since then and has been used in Disaster Victim Identification [DVI] projects ranging from terrorist acts to natural disasters to post conflict HID of war dead to mass fatalities in industrial accidents. Independent scientific reviewers have consistently rated M-FISys as the most advanced, sophisticated, easy-to-use DNA matching system in the world for large scale direct and kinship based DNA identifications. The software and database support STRs, Y-STRs, mtDNA, anthropological meta data and more.
M-FISys is sold primarily to governments and government agencies. Government agencies may apply for support of humanitarian projects under this grant, but the primary intention of the company in establishing this fund is to support independent humanitarian organizations.
---
[1] Gene Codes Forensics is a wholly owned subsidiary of Gene Codes Corporation, a bioinformatics company that has been providing DNA analysis software to commercial and academic researchers around the world for nearly a quarter century. The Gene Codes Forensics division specifically supports Human Identification [HID] projects with software tools, training, scientific advising and operational analysis and consulting for its clients.